Home
Africa Solar Fund's mission and all of its activities are designed to reduce poverty and to facilitate increased economic activity in rural regions of developing countries in Sub-Saharan Africa. As such, Africa Solar Fund's operations are limited to identifying and funding non-profit organizations that promote the use and development of sustainable technologies in these regions. Africa Solar Fund will provide funds to regional nonprofit organizations engaged in some or all of the following activities:
Supply of modern, energy-efficient solar and renewable energy equipment;
Implementation of micro-financing programs to enable the acquisition, use, and maintenance of sustainable technologies and cost-effective energy efficient equipment;
Development of educational and training programs to support and promote the use of sustainable technologies; and
Preparation of scientific reports and other studies documenting the need for and effectiveness of these sustainable technology programs.
Join us for an epic safari trip to the Serengeti in Tanzania! Click here for more information.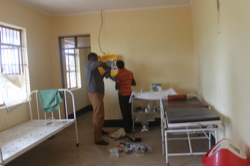 Current Project Spotlight
TanzSolar's Program: Solar Health Care Facilities for Tanzania
Report January 2014
One of the primary goals of the TanzSolar Organization is the provision of power and energy efficient, high quality lighting to health care facilities throughout rural Tanzania. TanzSolar has chosen to install the We Care Solar - Solar Suitcases.
TanzSolar has launched this program in the Mara Region of northern Tanzania. This region has a total of 215 health care facilities, serving approximately 1.5 million people. The rural health care facilities serve the villages, and the vast majority of these have no access to the electric grid and only kerosene lanterns or flashlights for lighting. These clinics are the only option most village women have for birthing assistance.
Africa Solar Fund has supported the first 10 such installations by TanzSolar...[read more]